Free and open source hexadecimal viewer/editor and component written in Java.
This is part of the ExBin Project.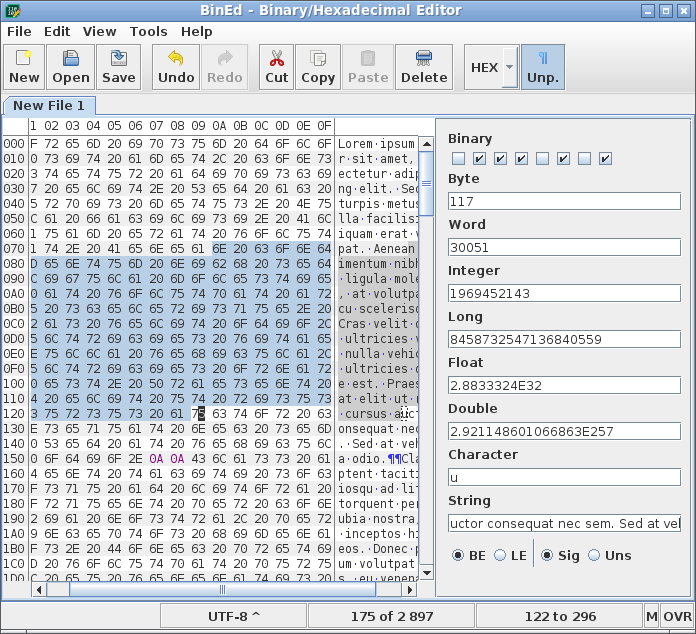 This website is still under construction!
News
2019-04-13: BinEd NetBeans & IntelliJ Plugin 0.2.0 Released

Renamed to BinEd
Updated to newer version of library
Support for half-size space
Support for layout, theme and colors profiles
Added support for different numerical bases in status bar
Configurable address margin
Fixed issue with copy as code for debug view

2018-08-24: DeltaHex IntelliJ Plugin 0.1.7 Released

Fixed issue with debugging in CLion (issue #4)
Fixed issue with goto does not scrolling window (issue #5)
Added basic support for debug view of bytearray and bytes for Python

2018-05-31: Project renamed to BinEd + website updated
2018-03-05: DeltaHex IntelliJ Plugin Hot Fix 0.1.6.1 Released

Fixed issue with byte array / NPE

2018-03-05: DeltaHex IntelliJ Plugin 0.1.6 Released

Added "Show as hex" action for debugger (native types and native arrays only)
Show "Document changed" dialog on window close
Fixed Unknown property name: 'modified' (issue #3)
See list of older news.